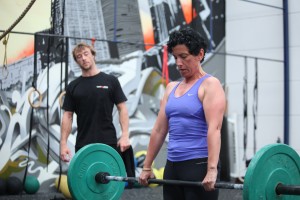 Have you taken advantage of our open gym coached hours yet?  This is a great time to get some personal attention to help improve specific skills that will help boost your overall fitness.  Need help with those pesky double-unders or learning the pull-up kip?  Want some advice on your Snatch and Clean and Jerk technique or would you like suggestions of specific mobility exercises to help you get into better positions?  Whatever it may be, don't be afraid to ask.
Show up to open gym, why not hook up with another CrossFit Leicester member to make you accountable to someone and for the month of May,  Kirk will be around to provide you with advise and guidance on for example: progressions for pull ups, double unders or,  improving your squat.  The rest of the coaching staff is also here as your support group and we are always willing to help but we strongly encourage you to reach out to us.
Show us you want to get better and are willing to take steps on your own and we will help you get there.