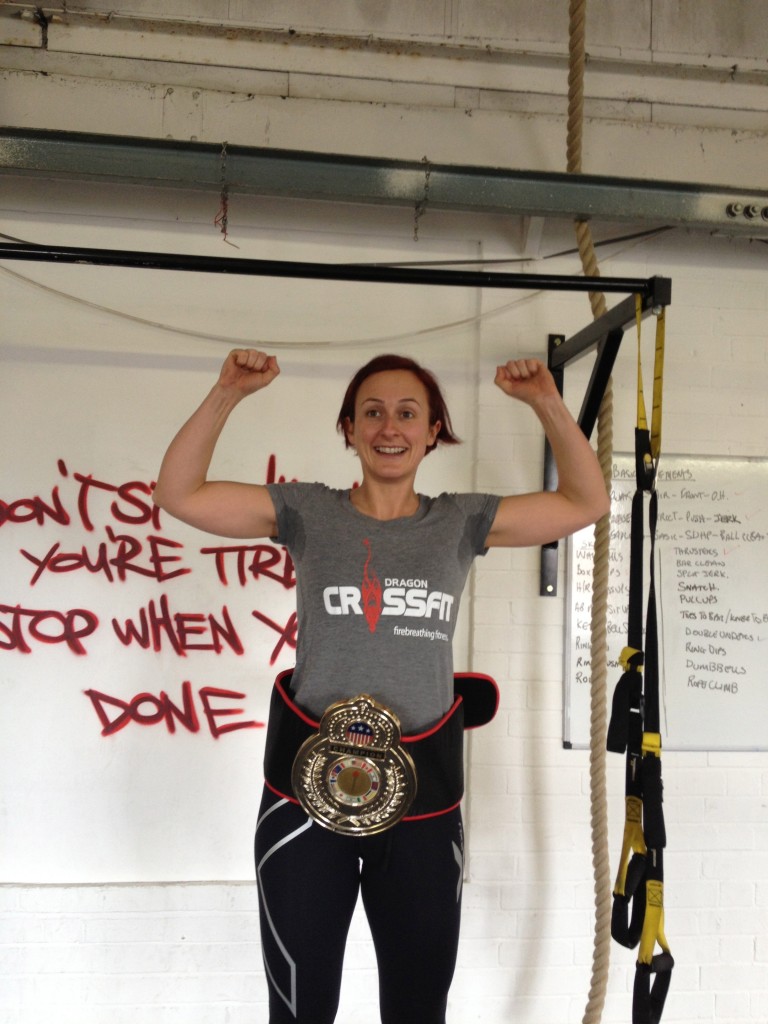 HOW DID YOU GET INVOLVED IN CROSSFIT? 
I'm a police officer and they started doing it at work. I didn't really understand it then though as it was never really fully explained to me. I got into it properly as I did a lot of Andy Osborne's class and thought I'd give it a go when he opened up  
CrossFit Leicester
. I've never looked back since and couldn't imagine life without CrossFit.
FIRST WOD ?
My first "unofficial" WOD was during my induction and it was 6 minutes of burpees. Killer! I couldn't move my arms for 5 days afterwards and even had trouble getting dressed it hurt so much! My first "official" WOD as a member was Angie – 100 jumping pull ups, 100 press ups, 100 sit ups and 100 squats — a baptism of fire!
WHEN DID YOU START COMING TO CROSSFIT LEICESTER? 
23rd July 2012
WHY DO YOU LOVE COMING TO CROSSFIT LEICESTER ? 
I love everything about CF Leicester. The people are amazing — really friendly and encouraging and are genuinely happy for you when you smash a PB or a WOD, yet there is still a feeling of friendly competition which gives you that extra push. The box feels like a second home and when you walk through the doors you forget about what a crap day you've had.
IS THIS THE FIRST CROSSFIT YOU'VE WORKED OUT AT/HOW LONG HAVE YOU BEEN CROSSFITTING FOR? 
Yes, been CrossFitting since July 2012 so 9 months now
WHEN DID YOU REALISE THAT CROSSFIT WAS RIGHT FOR YOU ?
Right from the beginning – I love the intensity of it and the mental battle you have with yourself in every WOD. You literally think you can't carry on but you always do — this translates into every day life and makes you much more confidant in everything that you do. I also loved the fact that every training session was different and it never gets boring.
WHAT ARE YOUR SHORT TERM AND LONG TERM CROSSFIT GOALS? 
Short term: To master the kipping pull up and to improve my flexibility
Long term: To compete in a masters competition when I'm 40 (just over four years to go!)
WHAT IS YOUR BIGGEST ACCOMPLISHMENT ? 
I think so far it has been learning how to do a hand stand. When I first started I couldn't even kick my legs over my head — now I can do a very tiny hand stand press up (with two ab mats!) I thought i'd never master it as I had a mental block for some time but I did it!
WHAT IS YOUR PROFESSION ?
I'm a Detective Sergeant in the police
WHAT IS YOUR FAVOURITE/LEAST FAVOURITE WOD MOVEMENT?
Least favourite movement: Overhead squats
WHAT ARE YOUR HOBBIES OUTSIDE OF CROSSFIT?
Other hobbies?? Eeeer, CrossFit! (don't have time for anything else!)
DO YOU EAT PALEO OR ZONE? WHAT IS YOUR FAVOURITE PALEO/NON-PALEO MEAL?
I don't eat Paleo or Zone – I don't really embrace the whole Paleo thing and just stick to a good old fashioned balanced diet. I don't eat bad carbs like white bread, rice and pasta etc but \I do still partake in chocolate related treats and cake! I eat mainly healthy but have treat days to keep myself sane. My favourite meal of all time (and I shouldn't say this on a health related questionnaire) is chip shop chips, sausage and beans with bread and butter! However, this is a rarity now-a-days. Favourite healthy meal would be a good old fashioned sunday roast chicken dinner with lots of health veg.
FUN FACT?
I have a rather nice webbed toe….
Huge congratulations once again to our May Member of the Month CATHERINE NEWTON…