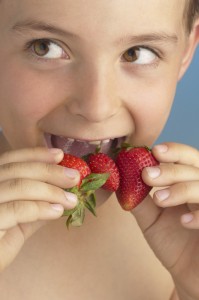 REAL FOOD" IS: 
Whole, unprocessed and unrefined
pasture-raised (a.k.a. grass-fed) and wild
local, seasonal and organic
Let's look at each of these in turn.
Whole, processed and unrefined: if it comes in a bag or a box, don't eat it!
The introduction of industrial food processing has without a doubt had the most detrimental effect on our health of any other factor in the last few hundred years – and possibly in the entire history of humankind.
Food refining has brought us all four of the food toxins destroying our health: white flour, white sugar & HFCS, industrial seed oils and processed soy products. It has also brought us chemical additives and preservatives, some with known negative effects and others with effects still unknown.
New research is revealing the harm these newfangled processed foods have on us almost every day. Recently a study was published demonstrating that emulsifiers used in packaged foods ranging from mayonnaise to bread to ice cream increase intestinal permeability ("leaky gut") and cause a chain reaction of inflammation and autoimmune disease.
Another study showed that diet soda consumption increases your risk of stroke and causes kidney damage, possibly because of the phosphoric acid used as an acidifying agent to give colas their tangy flavour.
To avoid the harm caused by processed and refined foods, a good general rule is "if it comes in a bag or a box, don't eat it."
Of course not all foods that come in bags and boxes are harmful, so this isn't meant to be taken literally. It's just a helpful guideline. Butter is often packaged in a box, andy certain supermarkets package their vegetables in sealed plastic bags. That doesn't mean you shouldn't eat butter and vegetables.
But in general, if you follow this guideline, you'll avoid most common food toxins. And that's more than half the battle.
Pasture-raised animal products and wild-caught fish: as nature intended
While the reasons to eat pasture-raised animal products and wild-caught fish span social, political, economic and nutritional considerations, I'm only going to focus on nutritional factors here. For a more comprehensive discussion, check out 'Eat Wild'.
Several studies have been done comparing the nutrient content of pasture-raised (PR) and grain-fed (confinement animal feeding operations, or CAFO) animal products. PR animal products are superior to CAFO in 2 primary respects: they have a better fatty acid profile, and higher levels of vitamins and other micronutrients.
OMEGA – 6 RATIO:
If you remember from Step #1: Don't Eat Toxins, for optimal health we want to consume a roughly equal amount of omega-6 (n-6) and omega-3 (n-6) fats. This ratio, referred to as the n-6 ratio, should be as close to 1 as possible. Studies have shown that grain-feeding animals depletes their omega-3 levels, thus raising the n-6:n-3 ratio.
Ducket and colleagues studied the omega-3 and omega-6 content of both pasture-raised and grain-fed animal products. They found that grass-fed beef had an n-6 ratio of 1.65, whereas grain-finished beef was 4.84. They also found that grass-feeding decreased total fat content by 43%.
Rule and colleagues found an even more significant difference. They looked at the n-6 ratio of several different types of meat, ranging from pasture-raised bison and beef to wild elk to chicken. They found the following ratios:
Range-fed bison: 2.09
Feedlot bison: 7.22
Range-fed beef: 2.13
Feedlot beef: 6.28
Elk: 3.14
Chicken breast: 18.5
What is apparent from both Ducket and Rule's studies is that pasture-raised beef has approximately three times the amount of omega-3 than grain-fed beef, and is much closer to the ideal n-6 ratio of 1. In fact, grass-fed beef has a superior n-6 ratio to even wild elk. This means that grass-fed beef falls within evolutionary norms for the fatty acid content of animals that humans have eaten throughout our history. Grain-fed beef does not.
Another interesting thing to note, which I mentioned in Step #2: Nourish Your Body, is the high n-6 ratio of chicken. In fact, it has about 14 times more n-6 than pasture-raised beef. This is why I recommend eating mostly beef, lamb and pork, and limiting chicken to the occasional meal (assuming you like it, that is). And when you do eat chicken, it's best to choose skinless breast and cook it in a healthy traditional fat like butter or coconut oil, because the dark meat with skin has the highest concentration of n-6 fat.

Meat, fat and dairy from pasture-raised animals are the richest source of another type of good fat, called conjugated linoleic acid (CLA).
CLA may have anti-cancer properties, even in very small amounts. In animal studies, CLA at less than one-tenth of one percent (0.1%) of total calories prevents tumor growth. In a Finnish study on humans, women who had the highest levels of CLA in their diet had a 60 percent lower risk of breast cancer than those with the lowest levels. In another human study, those with the highest levels of CLA in their tissues had a 50 percent lower risk of heart attack than those with the lowest levels.
Pasture-raised animal products are the richest known source of CLA in the diet, and are significantly higher in CLA than grain-fed animal products. When ruminant animals like cows and sheep are raised on fresh pasture alone, their products contain from 3-5 times more CLA than products from animals fed grain.
MINERALS, VITAMIN: 
8% greater vitamin E content                                                                                               54% greater beta-carotene content
Twice as much riboflavin (vitamin B2)
Three times as much thiamin (vitamin B1)
30% more calcium
5% more magnesium
Grass-fed products also have a lot more selenium than grain-fed products. Selenium plays an important role in thyroid function, has antioxidant effects and protects the body against mercury toxicity. Grass-fed bison has 4 times more selenium than grain-fed bison.
PASTURISED EGGS
We see a similar difference between eggs from hens raised on pasture, and those raised in confinement. Pasture-raised hens contain as much as 10 times more omega-3 than eggs from factory hens. Pastured eggs are higher in B12 and folate. They also have higher levels of fat-soluble antioxidants like vitamin E and a denser concentration of vitamin A.
WILD – CAUGHT FISH:
Farmed fish contain excess omega-6 compared to wild-caught fish. Tests conducted in 2005 show that wild-caught salmon contain 10 times more n-3 than n-6, whereas farmed salmon have less than 4 times the amount of n-3 than n-6.
Another study found that consuming standard farmed salmon, raised on diets high in n-6, raises blood levels of inflammatory chemicals linked to increased risk of cardiovascular disease, diabetes, Alzheimer's and cancer.
Wild salmon also contains 4 times as much vitamin D than farmed salmon, which is especially important since up to 50% of Americans are deficient in this important vitamin.
ORGANIC , LOCAL AND SEASONAL :  
Organic plant foods contain, on average, 25 percent higher concentrations of 11 nutrients than their conventional counterparts. In particular, they tend to be higher in important polyphenols and antioxidants like vitamin C, vitamin E and quercetin.
Even more relevant in determining nutrient content is where your produce comes from, and in particular, how long it's been out of the ground before you eat it. Most of the produce sold at large supermarket chains is grown hundreds – if not thousands – of miles away. This is especially true when you're eating foods that are out of season in your local area (like a banana in mid-winter in London).
A typical carrot, for example, has traveled 1,838 miles to reach your dinner table. Days – maybe more than a week – has passed since it was picked, packaged and trucked to the store, where it can sit on the shelves even longer.
The problem with this is that food starts to change as soon as it's harvested and its nutrient content begins to deteriorate. Total vitamin C content of red peppers, tomatoes, apricots, peaches and papayas has been shown to be higher when these crops are picked ripe from the plant. This study compared the Vitamin C content of supermarket broccoli in May (in season) and supermarket broccoli in the Fall (shipped from another country). The result? The out-of-season broccoli had only half the vitamin C of the seasonal broccoli.
Without exposure to light (photosynthesis), many vegetables lose their nutrient value. If you buy vegetables from the supermarket that were picked a week ago, transported to the store in a dark truck, and then stored in the middle of a pile in the produce section, and then you put them in your dark refrigerator for several more days before eating them, chances are they've lost much of their nutrient value. A study at Penn State University found that spinach lost 47% of its folate after 8 days.
This is why buying your produce at local farmer's markets, or even better, picking it from your backyard garden, are better options than buying conventional produce shipped from hundreds or thousands of miles away. Fruits and vegetables from local farms are usually stored within one or two days of picking, which means their nutrient content will be higher. And as anyone who's eaten a fresh tomato right off the vine will tell you, local produce tastes so much better than conventional produce it might as well be considered a completely different food.
FEWER CHEMICALS:
Another important benefit of organic produce, of course, is that it's grown without pesticides, herbicides and other harmful chemicals that have been shown to cause health problems – especially in vulnerable populations like children. A study published in the journal Pediatrics concluded that children exposed to organophosphate pesticides at levels typically found in conventional produce are more likely to develop attention deficit hyperactivity disorder (ADHD).
SUPPORTING LOCAL ECONOMIES AND PRESERVING RESOURCES:
Aside from having more nutrients and fewer chemicals, there are other non-nutritional reasons to eat local produce. These were summarised well in Cornell University's Northeast Regional Food Guide:
Community food systems promote more food-related enterprises in proximity to food production, marketing, and consumption. Such systems enhance agricultural diversity, strengthen local economies (including farm-based businesses), protect farmland, and increase the viability of farming as a livelihood. Local food systems mean less long-distance shipment of the produce we enjoy, which means decreased use of nonrenewable fossil fuels for food distribution, lower emission of resulting pollutants, and less wear on transcontinental highways.