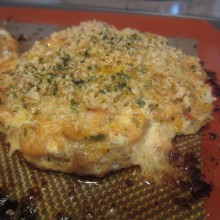 TOASTED PINE NUTS CRUSTED SALMON BURGERS (Serves 2-4)
INGREDIENTS:
1 cup (4 cups to a pound) Pine Nuts
1 lb Salmon
1 Egg
1/2 Small Onion, chopped
1/2 Bell Pepper, chopped
1/2 tsp Paprika
1/2 tsp Dried Parsley
Pepper to taste
METHOD:
Heat a dry skillet over high heat and toast the pine nuts, tossing occasionally until they are light brown all over.  Let cool, then toss into a food processor and pulse into a coarse meal.  Set aside.
Cut the salmon into chunks, then place in the food processor.  Pulse until finely ground, then transfer to a bowl with 1/3 cup of the ground pine nuts, egg, onion, pepper, and seasoning.  Mix well.
Form the mixture into 4 balls, then flatten into patties.  Coat each side with the remaining ground pine nuts.  Arrange on a baking sheet.  Bake at 350 degrees for 25-30 minutes, or until lightly browned.